Studying Science at University (LIFEF005) (C10SS2)
2017/2018
C10SS2 is a new 20 credit module on the Foundation Science course for September 2016.
Measuring behaviour: an introductory guide - Paul Martin, P. P. G. Bateson 20070521828686,0521535638,9780521828680,9780521535632

Book Recommended This text underpins some of the teaching during the autumn semester

Bad science - Ben Goldacre 2009000728487X,9780007284870

Book Essential This book is a core text for the spring semester

Study skills for scientists

2 items

Cite them right: the essential referencing guide - Richard Pears, Graham J. Shields 20139781137273116

Book Recommended This is a handy text which offers clear guidance about how to cite a wide variety of resource types. There are many different editions of this book - it doesn't really matter which version you use, though you'll find that the newer editions are better if you're using digital resources.

Maths and statistics for scientists

4 items

These texts are all easy-to-read guides to maths and statistics

Other useful resources for studying science

8 items

These texts may be useful to support your learning in the Foundation Year and you may also find them handy during the first year of your undergraduate studies.
All rights reserved ©
Profile Required
Reading intentions and notes are stored against your user profile. Please create a profile to use this feature.
My notes
You must be logged in to add a note
What are item notes?
You can use item notes to make personal notes on any of your reading items. Notes are private to you and will not be shown to other users.
You can review your item notes from the list, the item page or from your profile page.
---
How do I create an item note?
To make notes, first you must be logged in. Once logged in, simply click Add note? next to the list item you wish to make notes on. You can also make notes at the bottom of every item's detail page.
Your note will be saved automatically as you type.
Have you read this?
You must be logged in to set a reading intention
What are reading intentions?
Setting up reading intentions help you organise your course reading. It makes it easy to scan through your lists and keep track of progress. Here's an example of what they look like: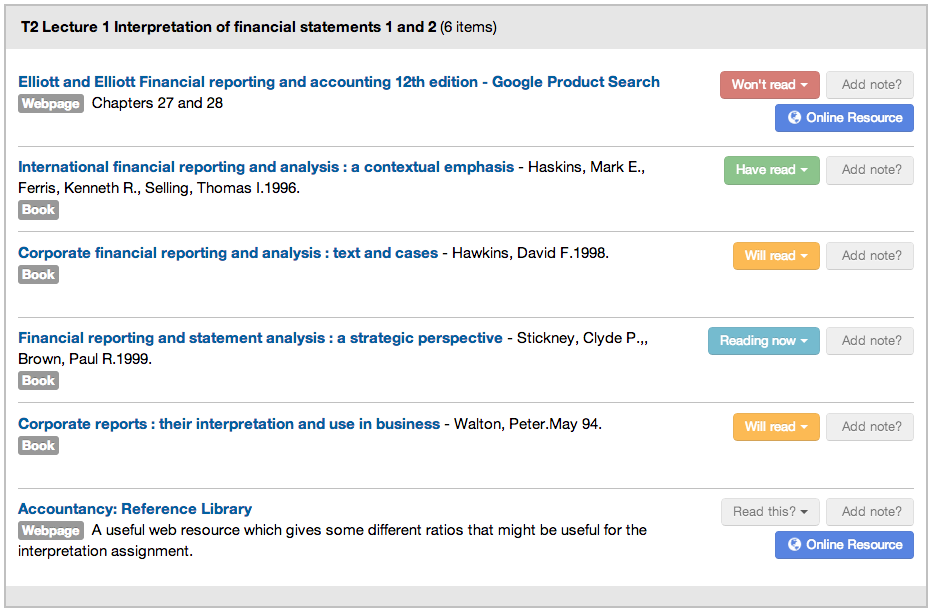 Your reading intentions are also stored in your profile for future reference.
---
How do I set a reading intention
To set a reading intention, first you must be logged in. Once logged in, click Read this? next to the list item you wish to set a reading intention for.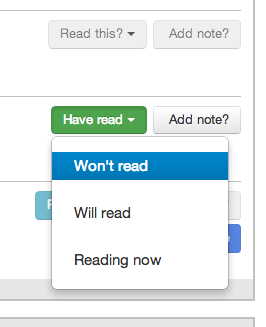 You can also set the reading intention from every item's detail page.